Odoo Expierence 2017 has started early for us as Frederik Kramer and me participated in the OCA Code Sprint which has held at Hotel Ibis Style in Louvain-la-Neuve on the 3rd and the 4th of October 2017.
The Code sprint was divided into three main tracks:
Code Sprint
Trainings
Open Discussions
In the Code Sprint track, we were working together to improve Odoo and OCA modules by testing, bug fixing, translating, and also proposing new features. One of the main topics was to migrate all the open pull requests for Odoo 10 before starting working on the new branch for Odoo 11.0, and we were able to migrate more than 100 pull requests for Odoo 10 in different repositories. In the second day, OCA branches for Odoo 11.0 were created, and we were able to start migrating the OCA modules to Odoo 11.0.
The Code sprint included also other teams which were working on some interesting issues like:
Py3o reporting engine
A module browser for OCA instances for v10 (something that will be a similar help like www.odoo-code-search.de to find suitable modules)
CMS features
Some important discussions were held also in the discussion room for some interesting topics like:
Monitoring the Odoo stack using the time series database Prometheus
The product configurator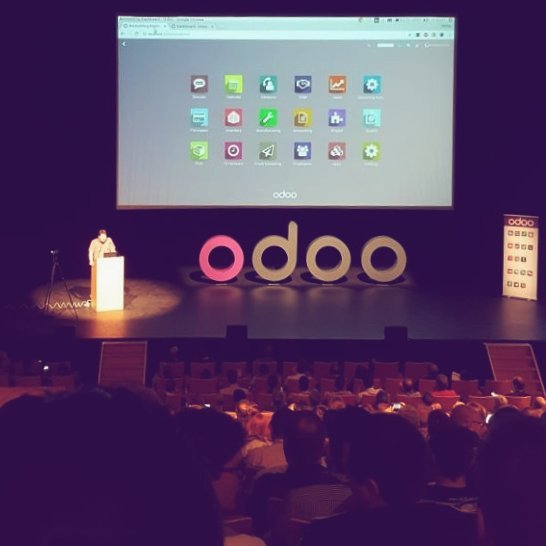 On the 5th of October Odoo Experience 2017 has begun in Aula Magna in Louvain-la-Nueve. The event has begun with revealing Odoo 11 by the founder of Odoo Fabien Pinckaers. Fabien has made an interesting presentation about the new features of Odoo 11 which contains many improvements on the user interface, the applications and also the performance since Odoo 11.0 is  supposed to be 3 times faster than Odoo 10. Then Odoo's CTO Antony Lesuisse has made a small presentation of the new technical features in Odoo 11.0 which are a lot since Odoo has moved to Python 3.5 instead of Python 2.7. After  the talks and presentations begun, a lot of interesting topics were presented. Some of them were technical like porting "Odoo to Python 3" and "Connecting external tools with the APIs", and some were about some developed features for Odoo like Budget Control with MIS Builder and managing Business requirements in Odoo as well as many more topics. At the end of the day there was a nice BBQ and a live concert.
It was a really nice experience to meet the developers from all around the world and to get to know many people who are interested in open source technologies. I am really looking forward to the next events.
You are interested in Odoo?
Read on for more. Or you can call us at +49 4105 135 03 99, Email to [email]sales@initos.com[/email] or via contact form.